8 ways to get more out of your employment screening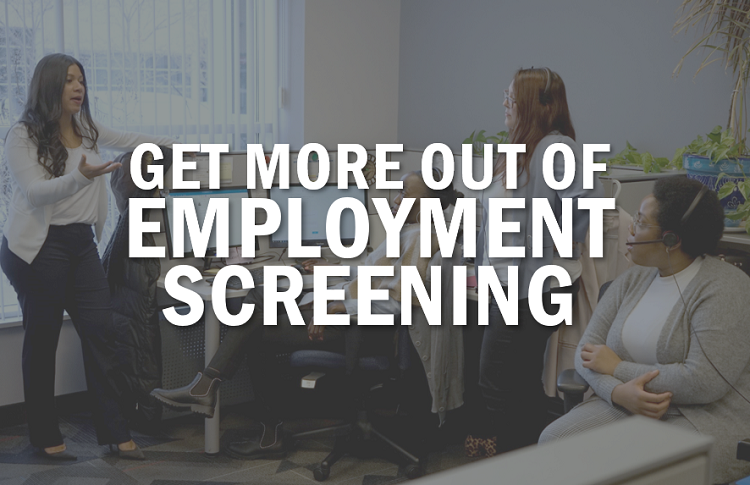 People are your biggest investment. How do you ensure you're getting the right ones?
It's sounds like a cliché, but it's true: People are your biggest, and often most important, investment. Hiring the right people can transform your business and your bottom line – and hiring the wrong person can end up costing you time, productivity and, ultimately, a lot of money.
There's no foolproof way to avoid hiring mistakes, of course, but pre-employment screening can go a long way to weeding out potential bad apples.
However, getting the most out of your pre-employment screening involves more than just making sure candidates on the shortlist sign the consent forms. Here are our tips for making sure your screening program is working harder for you.
Put a screening policy in place.
If your organization has more than one hiring manager - or if department heads and other managers often make hiring decisions without going through the HR department - it's important to establish and communicate a clear (and concise) screening policy, and ensure that anyone involved in the hiring process is aware of it. This can help reduce the kind of hiring mistakes that happen when inexperienced managers bypass the vetting process.
Know what you want to know
Many employers engage a screening company to check references and maybe confirm previous employers. But if you're in a sensitive industry or hiring a senior executive for a specialized role – especially if you're offering a substantial compensation package – you may want to consider screening that also verifies education and professional credentials. (This is a bigger area for fraud than most employers realize.) Taking the time to consider what you really want and need to know about a candidate could help you avoid a big mistake.
Know exactly what the job will involve
This seems obvious, but the truth is that in many cases, pre-employment screening isn't as useful as it could be simply because the screening didn't include a key qualification or skill, such as a driver's abstract. If you need the new hire to have a clean driving record or credit history, it's better to know this during the initial screening process.
Be up-front with the candidate about what you're screening for
Being honest with the candidate about what information will be involved in their screening will not only give them a chance to address any potential issues, but will also help to protect you from damages if the candidate is not hired and tries to take action based on 'improper' screening.
Know what information is a deal-breaker
Your prospective new hire got one lukewarm (or even a little negative) reference from a previous employer. Does this automatically disqualify them from consideration if the other references were good? What about if they said they were 'expert' in a particular skill but a reference check reveals their skills are probably 'intermediate'? Knowing what information is really crucial will help you use the screening results more effectively.
...but don't make your checklist too strict
Recruiters often tell us about fantastic hires that 'got away' because a potential employer had a checklist of 11 things - but the candidate only ticked 10 of the boxes. If it turns out that an otherwise perfect potential hire has one bad reference from 7 years ago, maybe it's worth asking more questions rather than immediately taking them out of the running.
Establish a social media screening policy
Lots of great employees occasionally post questionable photos or information to one of their social media channels – that doesn't mean you shouldn't hire them. At the same time, social media can blur the line between 'personal' and 'professional' in ways that can cause risk for employers. Establishing a corporate social media policy that can then be used consistently for pre-employment screening can be an effective way to mitigate this risk without worrying that you're disqualifying good potential hires for arbitrary reasons.
Consider doing in-depth reference checks yourself 
If all you want to know is whether a prospective hire did in fact hold the position(s) they claim to, then a basic reference check is fine. But if the job requires the kinds of soft skills that aren't easily measured, or needs a specific kind of cultural fit, you may want to follow up the basic reference checks with more detailed conversations with one or two employers from the top one or two candidates.